08 Jan 2020
By Belle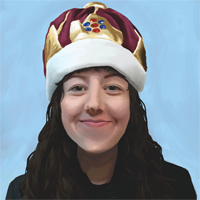 How to get the most out of Exist
Exist offers a lot of different ways to look at your data, and different kinds of analysis. Depending on your goals, you might want to use Exist in a different way. Let's look at a few common goals you might have, and how to get the most from Exist for each one.
Before we start, though, here are a couple of steps you'll want to start with, no matter what your goals are:
Sign up, then connect as many services as you can/feel comfortable with. The more data Exist has access to, the more opportunities it has for finding interesting correlations and insights in your behaviour (You can use this interactive page to see what services we support and how much data you'll get in your Exist account based on the services you use)
Start rating your mood and adding custom tags every night in our mobile apps or on the web. This is optional, but many of our users find combining this kind of manually-entered data with passively-tracked data like exercise and sleep help to uncover the most interesting and useful insights
If your goal is: To see what Exist can tell you about your behaviour
Even if you're not sure what you want out of Exist, it can be fascinating to uncover insights about your behaviour, correlations between your actions, emotions, and environmental factors, and keep an eye on long-term trends for things like sleep, mood, and weight.
If you're not looking for anything particular, or trying to change your behaviour, but are simply curious about what Exist might tell you based on analysing your data, here's how to get the most from Exist:
Check the Home tab in our mobile apps to see insights every day about your recent behaviour and what this day of the week normally looks like for you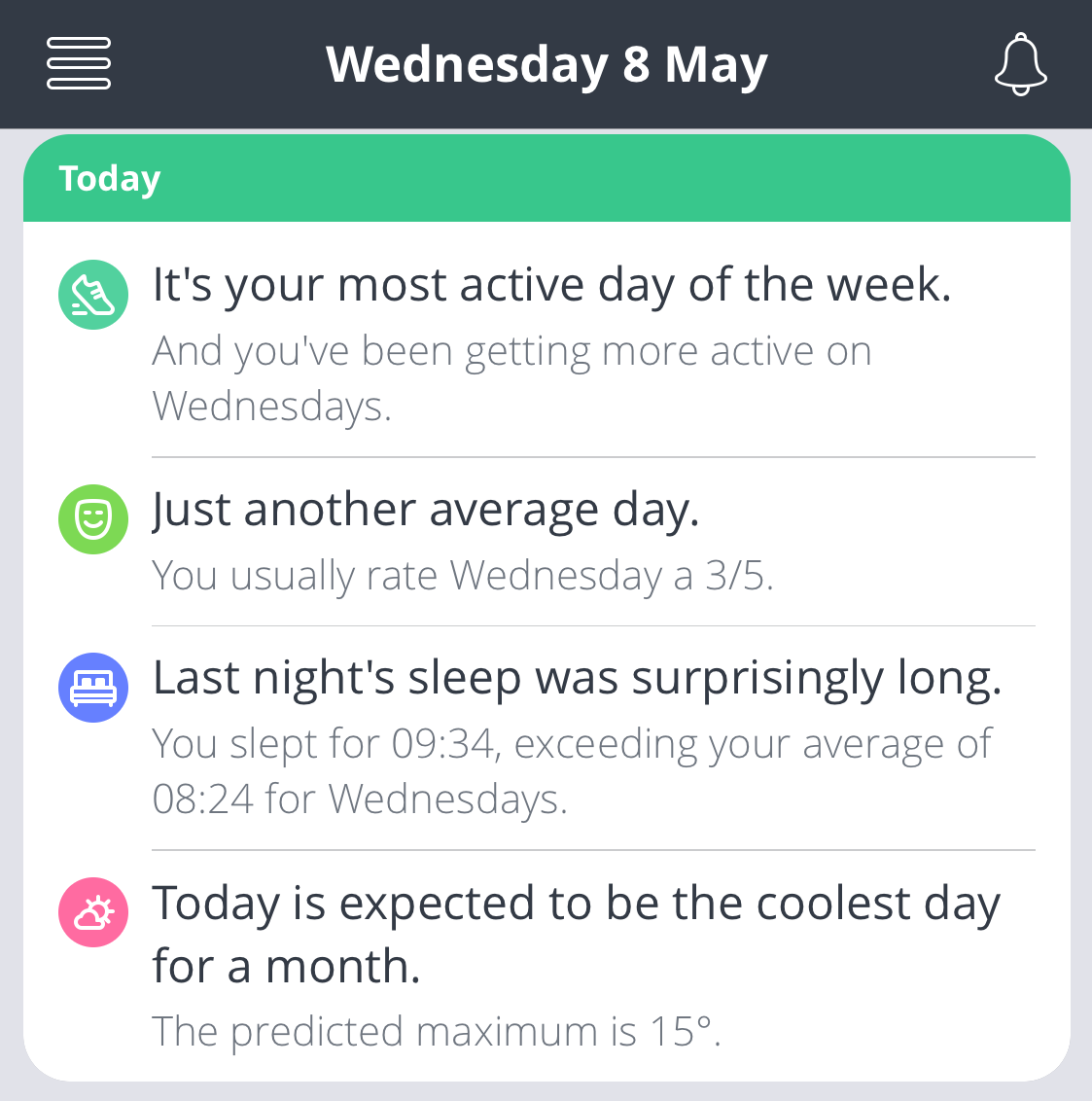 Check the Trends tab in our mobile apps once a week (the trends graphs update on Sundays) to see how your long-term trends are changing for weight, productive time, steps, and sleep
Shuffle the correlations on the Trends tab in our mobile apps to discover correlations we've found in your data
Read the weekly email we send each Monday to see how things went last week and discover a random set of correlations we've found
If your goal is: To track and improve your mental health
Exist includes built-in mood tracking that combines with the rest of your data to help you discover what affects your mood positively and negatively, how your mood has changed long-term, and which days of the week are your happiest days.
If you're particularly interested in tracking your mental health, finding triggers for mood changes, or improving your overall mood, here's how to use Exist to get the most out of it:
Use the Review tab in our mobile apps to track custom tags and mood, and turn on the nightly reminders so you never miss a day (or you can choose to get an email each night instead of using our apps—change this on your attributes page)
Use custom tags to track emotions (e.g. stress, irritable, tired), and anything else you think might affect your mood (e.g. working from home, feeling unwell, pain or medical symptoms, different foods, vitamins, or medications, caffeine or alcohol, people you spend time with, etc.)
Check the Mood trends page and optimise page on the web once a week to see what we've identified that makes the biggest difference to your mood—both good and bad, and to see what other correlations we've found to mood

If your goal is: To lose or gain weight
Exist's long-term trends graphs are perfect for keeping an eye on something that changes slowly, such as weight. We can also help you understand what correlates to increasing or decreasing weight, so you can be more informed when developing a plan of attack for adjusting your weight.

Research shows diet has the biggest impact on weight change, but exercise can help, and is certainly important in terms of overall health. If you're trying to lose or gain weight, here's how to use Exist to help achieve that goal:
Track your food intake with Fitbit or any app that syncs to Apple Health
Track your activity with a fitness tracker, smartwatch, or an app that syncs to Apple Health or Google Fit
Check the Trends tab in our mobile apps weekly to see how your weight is changing long-term
Visit the Optimise page on the web monthly to see which attributes correlate most strongly to changes in your weight
Don't forget to check the Trends pages on the web for Lean Mass and Body Fat Percentage too, since not all weight is equal

If your goal is: To track an illness or medical issue
Our built-in custom tags are perfect for tracking medications and symptoms of illness. Our correlations can help you understand what correlates most closely with your symptoms, and our tag trends pages can give you useful stats such as the frequency of your symptoms, and a calendar view to explore when you've experienced certain symptoms over time.

Whether you're tracking an existing diagnosis, monitoring general health, or trying to uncover triggers of symptoms or pain, here's how Exist be used in a more medical-focused context:
Use custom tags to track medications, symptoms, and appointments with doctors, physiotherapists, etc.
Use custom tags to track anything you suspect could be a trigger or could be making your symptoms worse, such as food groups (e.g. gluten, dairy, soy), alcohol and caffeine consumption, stress and energy levels, personal care routines and habits, etc.
Make sure you've allowed one of our mobile apps to track your location so we can also find correlations between your data and the local weather conditions
Check the Trends pages on the web every couple of weeks for the symptoms you're tracking to see what correlations we've found
The Trends pages on the web will also show how long it's been since you last used a tag, and how often you use it on average, which may be useful information at medical appointments
---
Exist collects extremely personal data, which means the way you use it will be personal, as well. Hopefully these ideas will help you get started in figuring out what makes Exist most useful for you.